As our loved ones grow old, it can feel daunting to find ways to care for their needs. Luckily, there are plenty of online, in-person, and medical resources for aging adults. But what do housing and medical care look like for senior citizens?
Seniors can choose to live at home, in an independent living community, assisted living facility, memory care unit, or skilled nursing facility. Seniors also have options for in-home medical care, including hospice, home healthcare, and caregivers.
To get the details on what each kind of resource looks like, who it works best for, and how Senior Solutions can help you find the support you need, continue reading below!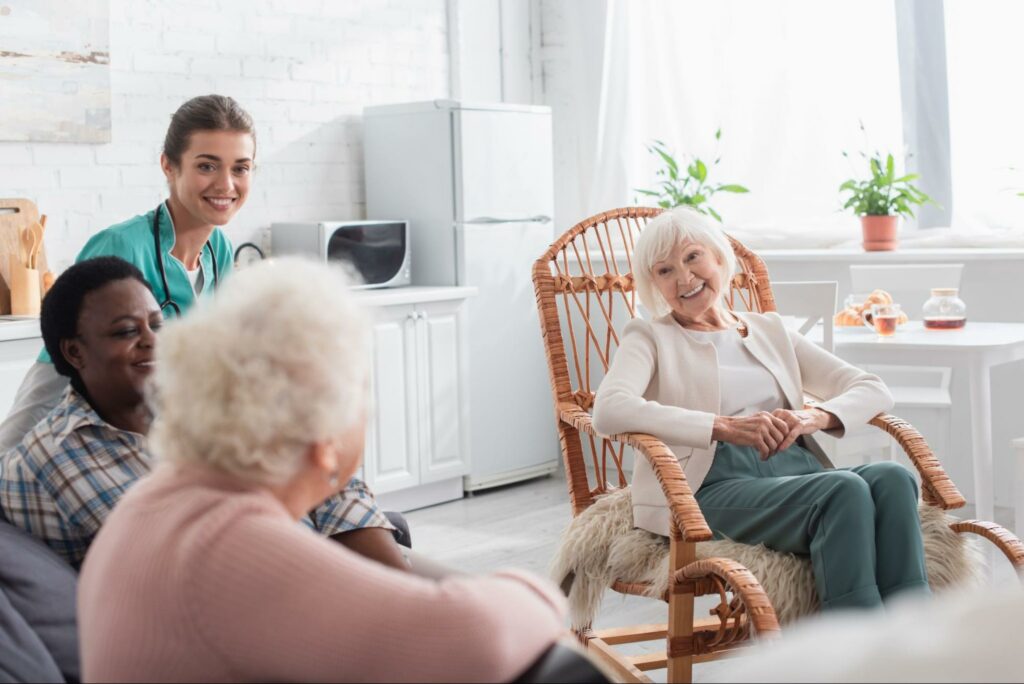 What Housing Options Do I Have?
You have options! Depending on your relative's age, medical conditions, and social needs, there is a place that they can call home.
Independent Living
Independent Living are housing communities that are designed for older adults who do not need special medical attention. It can also be referred to as Retirement Communities. Typically, those 55+ live here.
Many Seniors will move here to simplify their life and make new friends. There is a big focus on social support for Independent Living centers, and it is a great resource for aging adults who are struggling with depression or anxiety.
Learn more about Independent Living communities.
Assisted Living
Assisted Living centers are designed for seniors who require minimal assistance even up to full-on care assistance. In addition, most facilities provide day-to-day support with food, housekeeping, laundry, transportation, activities, and more. Generally the larger the facility the more amenities and services that are offered.
For a brief comparison of differences with the size of the facility, please reference our helpful guide here.
Memory Care
Memory care units offer many of the same services that Assisted Living does but there is generally a marked difference in the environment and layout between the two. Memory Care units are usually much smaller, offer better staffing & specialized training, have a calmer less busy environment, and doors are secured so those who wander cannot easily exit the premises. Many memory care units exist on Assisted Living campuses and are generally a last resort due to a resident's needs not being effectively managed in Assisted Living.
See the differences between Memory Care and other communities.
Skilled Nursing Facility
A Skilled Nursing Facility, or SNF, is a rehabilitation center for patients after they leave the hospital.
Some seniors need SNF care when recovering from injuries, an illness, or surgery. SNF facilities can provide speech therapy, occupational therapy, assistance with daily activities, regular wound care, and more.
In addition, many SNFs have sections designated for long-term residents who have clinically complex conditions that cannot be safely managed in Assisted Living. The long-term care element of SNFs has been referred to as "Nursing Homes".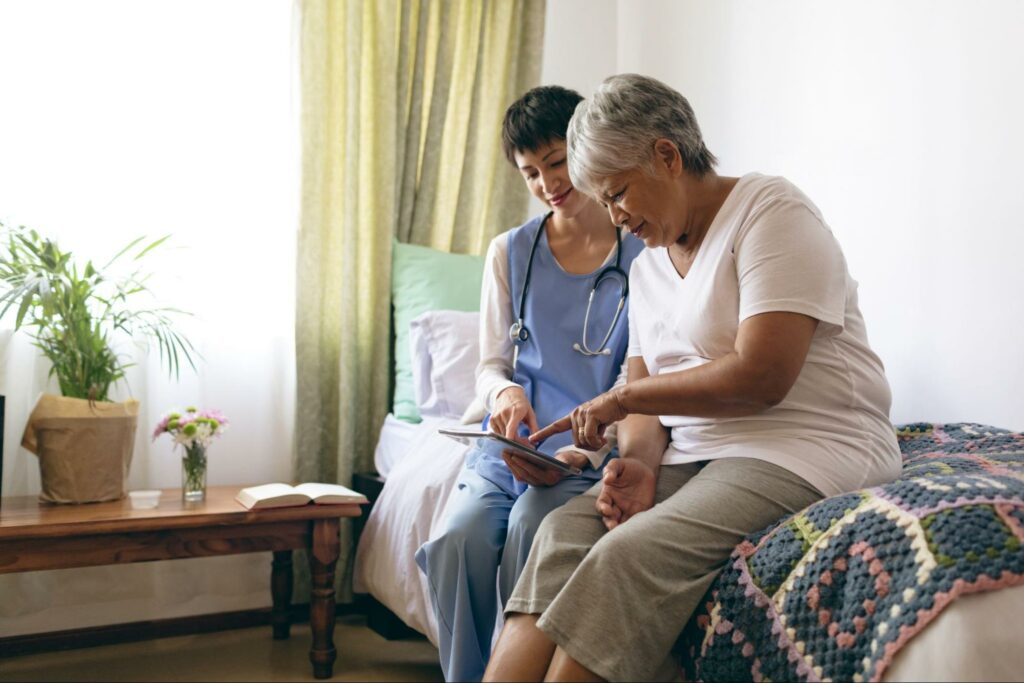 What Other Care Options Are There?
There is a variety of healthcare options available for any budget, lifestyle, or need.
Caregivers
A caregiver is typically a non-medical professional who regularly looks after an elderly client in the home.
Caregivers can help with meal preparation, laundry, housekeeping, care assistance, hygiene & medication support, and other household duties.
Home Health
After surgery or an accident, many seniors can receive medical attention at home. This is called Home Health.
The purpose of Home Health is to help a patient recover and is covered by Medicare Part B. Home Health is different from Caregivers. Caregivers are meant to help with daily tasks and are usually employed long-term, while Home Health is a temporary medical service to help you recover from an illness, injury, or surgery.
Some examples of Home Health services are:
Injections
Wound care
Monitoring illness or health status
Nutrition or traditional therapy
Physical or speech therapy
Patient and caregiver education
Medical social work
Hospice & Palliative Care
Hospice care focuses on the comfort of a patient with a terminal illness. Senior Citizens qualify for Hospice if they are enrolled in Medicare Part A. You can receive Hospice care when recommended by a doctor who believes that the patient has 6 months or less to live due to their terminal diagnosis.
Palliative care is specialized treatment for those living with a possibly terminal illness like cancer or heart failure. Unlike Hospice care, Palliative care is given with the intent to find a cure.
If you are interested in learning more, view our Hospice Care page.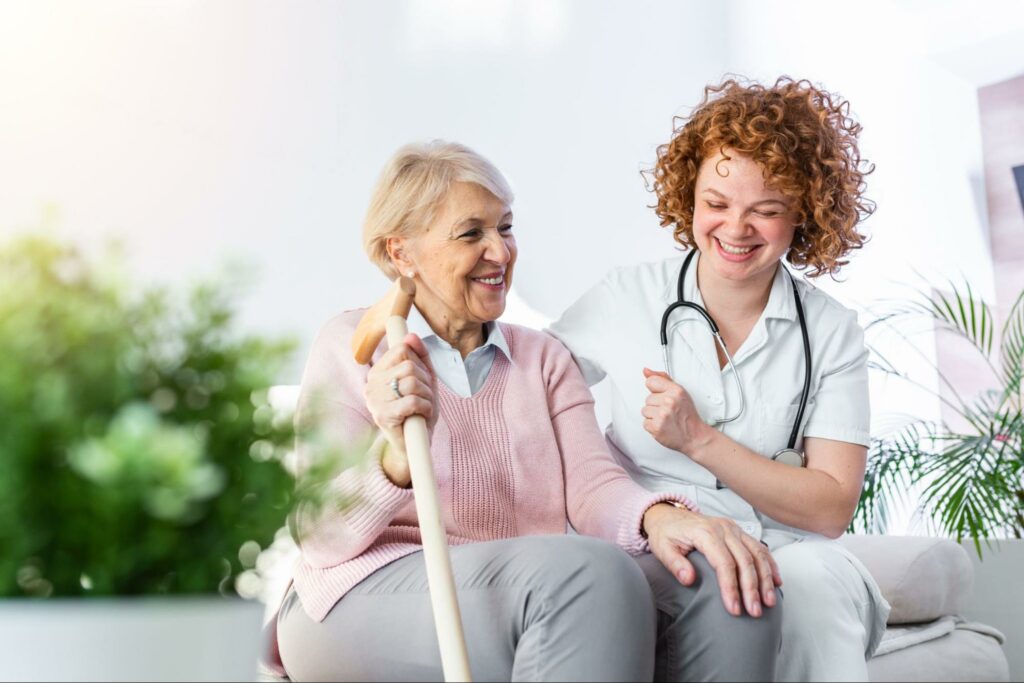 How Can Senior Solutions Help Me?
If you live in the East Idaho area, we are here to help! Senior Solutions is an Idaho Falls-based company that helps clients get answers and support through the aging journey.
Our job is to help you connect with housing and care resources for your senior loved one. If you need any information, please call us at (208) 821-0955 or email us here. We look forward to serving you!